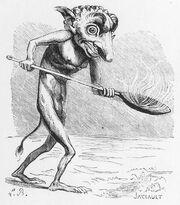 In de Plancy's 1818 Dictionnaire Infernal,
Ukobach
or
Urobach
is described as a "
Demon
of an inferior order." He is shown with a flaming or red body, large eyes and ears and often a pan full of coals or hot poker. He is said to be the inventor of Fireworks and the art of Frying Foods. He is charged, by
Belzebuth
, to maintain the "oil in the infernal boilers" which is made of the blood of the damned, "forged in the west where the sun sets."
Ad blocker interference detected!
Wikia is a free-to-use site that makes money from advertising. We have a modified experience for viewers using ad blockers

Wikia is not accessible if you've made further modifications. Remove the custom ad blocker rule(s) and the page will load as expected.