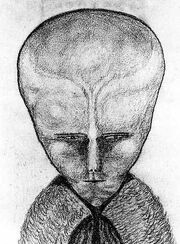 Lam
is considered a class of entity that can be invoked by occultists through magickal portals into physical manifestation on planet Earth.
From January through March of 1918 Crowley began a series of magickal workings called the Amalantrah Workings in furnished rooms in Central Park West, New York City. The workings typically manifested as a series of visions and communications received through the mediumship of his partner, Roddie Minor. The entity that came through the magickal portal is the one pictured above left. Crowley maintained the picture is actually a portrait and drawn from real life. This entity either called itself "Lam," or was named "Lam" by Crowley. Either way, he considered it to be of interdimensional origin, which was the term then for extraterrestrial.
Crowley included the portrait of Lam in his Dead Souls exhibition held in Greenwich Village, New York, in 1919. In that same year it was published as a frontispiece labeled The Way to Crowley's commentary to Blavatsky's The Voice of the Silence. Beneath the picture was the following inscription: "LAM is the Tibetan word for Way or Path, and LAMA is He who Goeth, the specific title of the Gods of Egypt, the Treader of the Path, in Buddhistic phraseology. Its numerical value is 71, the number of this book."
Ad blocker interference detected!
Wikia is a free-to-use site that makes money from advertising. We have a modified experience for viewers using ad blockers

Wikia is not accessible if you've made further modifications. Remove the custom ad blocker rule(s) and the page will load as expected.