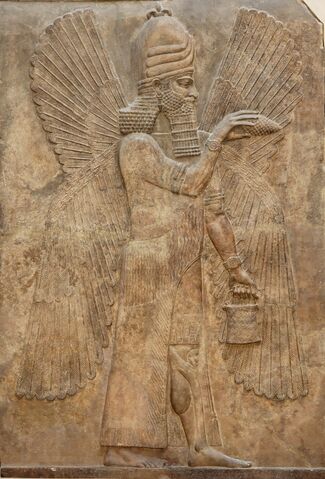 Description
Edit
English: Winged genie with spath-(pollen), and pollen/spath-bucket before a Tree of Life panel-(at other museum), giving its blessing. Relief from the north wall of the Palace of king Sargon II at Dur Sharrukin in Assyria (now Khorsabad in Iraq), 716–713 BC.Français : Génie ailé donnant une bénédiction. Bas-relief du mur septentrional du palais bâti par Sargon III à Dur Sharrukin, en Assyrie (actuelle Khorsabad, Iraq), v. 716–713 av. J.-C. Fouilles de Paul-Émile Botta en 1843–1844.
Appears on these pages

of
Winged genie is the conventional term for a recurring motif in Assyrian iconography. Winged...
File history
Click on a date/time to view the file as it appeared at that time.
Metadata
Ad blocker interference detected!
Wikia is a free-to-use site that makes money from advertising. We have a modified experience for viewers using ad blockers

Wikia is not accessible if you've made further modifications. Remove the custom ad blocker rule(s) and the page will load as expected.